Recent Events
Events Updates, April 2010
Details
XI Standard Orientation Meeting | 12th April 2010
An orientation meeting was held on the 12th of April 2010 for the students of Std. XI. They were accompanied by their parents. The Principal, Mrs. Rajani Shekhar made them familiar with the rules and regulations of this level. She mainly emphasised upon the co-operation of the parents with the school in enforcing rules for the benefit of the students which will help them remain focused on their studies.
Many key issues concerning this level were explained through a powerpoint presentation. They are as follows:
XVI Bhanumathi Neelakantan Awards, 2010
Details
Mrs. Bhanumathi Neelakantan is a renowned Hon. Social Worker of Jamshedpur since 1956. She is an educationist and a person working for various projects. She has been responsible for starting the following reputed Schools – D. B. M. S. Schools and Career Academy, Chinmaya Secondary School, Jamshedpur Public School, New Baridih, T. R. F. Valley View School, Narbheram Hansraj English School and the School of Hope for the mentally retarded. She was also a member of the Tisco Schools Visiting Committee. As a Social worker she has been actively connected with A.I.W.C., Blood Bank, Family Planning Clinic, Red Cross Society and other projects and organizations connected with the welfare of women.
Graduation Night Speech 2009
Details
It gives me great pleasure and pride to address this gathering of people whom I've known and loved since childhood. Today, this night, is the last night when all of us are together, assembled at one place. All of us who have shared the best part of our lives together, school life. We have very special memories of the school days together. Memories which will draw out a smile on our faces even in the saddest of days and which can also draw out tears from our eyes in the happiest of hours. Memories born and nourished in this very school, our own D.B.M.S. English School.
A Topper's tips for schoolmates
Details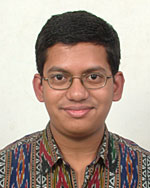 Vighnesh was the ICSE city topper with 96.60% in 2005 and he was the ISC city topper, district topper, state topper and rank holder at the All-India level at the 2007 ISC Examinations having secured 98.25%.
In the IIT JEE he obtained a rank of 1611 and is currently doing his Computer Science and Engineering at IIT, Kharagpur. The following is his advise to those appearing for the Board exams.
Rajani Shekhar
Sports & extra-curricular wins in 2008-09
Details
The following have won medals in regional, national and international competitions:
Manisha and Anand Sethi
Represented India in Indo Srilanka Tennis Ball Cricket Series held from 9-13 October, 2008 in Sri Lanka.
Also participated in National Tennis Ball Cricket Championship.
Shreya Ghosh
Awarded 3 gold medals and individual championship in Regional Athletic Meet. 
Awarded Silver in ICSE / ISC National Athletic Meet at Hyderabad.
Also participated in Nationals for the last 7 years.           
Upcoming Events
No events found