Mrs. Bhanumathi Neelakantan is a renowned Hon. Social Worker of Jamshedpur since 1956. She is an educationist and a person working for various projects. She has been responsible for starting the following reputed Schools – D. B. M. S. Schools and Career Academy, Chinmaya Secondary School, Jamshedpur Public School, New Baridih, T. R. F. Valley View School, Narbheram Hansraj English School and the School of Hope for the mentally retarded. She was also a member of the Tisco Schools Visiting Committee. As a Social worker she has been actively connected with A.I.W.C., Blood Bank, Family Planning Clinic, Red Cross Society and other projects and organizations connected with the welfare of women.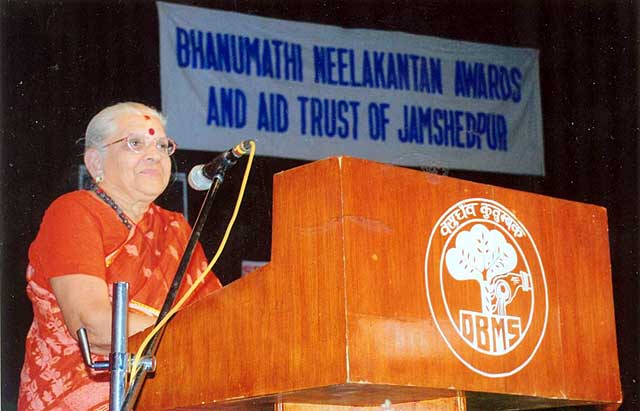 As a responsible citizen of Jamshedpur, she has founded the Bihar Women Cricket Association, JOGGA, Bihar Kennel Club, Jamshedpur Music Circle, Chinmaya Mission, Quiz Society, Nehru Bal Vikas, Jamshedpur Citizens Council and worked for promoting the cultural spirit among the youth of Jamshedpur. She is a recipient of Michael John Memorial Award, J. N. Tata Award, Arya Samaj Vidya Peeth Award and Diamond Jubilee Social Workers Award from Madrasi Sammelani.
Her brothers Mr. S. Chandran, retired World Bank Executive and Mr. S. Sridhar of New York wished to have a permanent trust created in her name in Jamshedpur as they wanted awards and financial help should be given every year to deserving women and thus create an awareness of her work always. This trust received donations from the family of Late Vasantha Sundaram - who was a close friend of Mrs. B. Neelakantan and worked for the Society of Jamshedpur in various fields, from the family of Late S. D. Singh who was a renowned personality in town, from Late Kamakoti Shivaswamy, the sister-in-law of Mrs. B. Neelakantan and from Mrs. Sowmya Ramasubramanian, sister of Mrs. B. Neelakantan, who is an educationist from Mumbai.
Deserving women are selected after scrutinising the applications received from various social organisations and eminent personalities of this town. A Cheque of Rs. 10,000 a memento, a certificate and several gifts are given to them at the award function.
Profile of 2010's five awardees
Ms. Binti Singh (Category I: Physically Challenged)
Sponsored by Mrs. Dilith Casleton, Hon. Jt. Secretary, Tata Steel Rural development Society
Ms. Binti Singh is a resident of Saari village of Patamda. She is 35 years of age. An incident in her childhood affected her life. She lost the use of her legs but she continues to have a will to live life with full zeal. She does not wish to be a burden on her family but instead wants to be their strength.
Mrs. Pushpa (Devi Category II: (Woman Entrepreneur)
Sponsored by Mrs. Dilith Castleton, Hony. Jt. Secretary, Tata Steel Rural Development Society.
Mrs. Pushpa Devi, a 28 year old woman is an inspiration for the society. She was treated as an out caste from her village when she married Shanker Mahato. But their will to live together made them stand against all odds and they started an enterprise of Jute and Bamboo. Today they work as trainers and provide training to NGOs.
Ms. Usha Kumari (Category III: Outstanding Sportswoman)
Sponsored by Mr. Rakeshwar Pandey, General Secretary, I.N.T.U.C.)
Ms. Usha Kumar is an excellent Cricket Player who has represented the Jharkhand State Team from Jamshedpur Women's College where she is currently doing her Graduation Part II. Having lost her father at an early age, her mother sells ldli to keep the home fire burning. This has not deterred Usha Kumari who is a medium pace bowler. She wishes to utilise the prize money for buying sports equipment.
Ms. Asha Goswami (Category IV: Outstanding Student)
Sponsored by: Dr. Shukla Mahanty, Principal, Jamshedpur Women's College)
19 year old Asha is doing her Arts at the Jamshedpur Women's College with mathematics as her Honours subject. She has two sisters and her father is ailing with kidney problem. Her financial condition has not deterred her and she wishes to pursue her education and complete her MBA. She received a prize from Mr. Bandhu Tirkey for her good performance.


Ms. Lakshmi Hembrom (Category V: Social Worker)
Sponsored by : Hony. Jt. Secretary. Tribal Cultural Society)
Ms. Lakshmi Hembrom belongs to a poor tribal family comprising her husband and her 3 children. Owing to financial constraints she decided to help her husband and she founded the self help group "Gyan Jyoti Mahila Samity." She has been helping old people to apply for Vridha Pension and has helped many genuine people in getting the BPL Cards. Her concern for the people of her Bustee motivates her to guide them towards awareness of medical van facility and various programmes of NGOs like Tribal Culture Society on education, health and income generation.