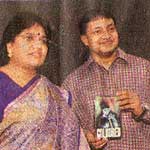 Renowned Filmmaker Tathagata Bhattacharya, an alumnus of DBMS School, is planning to make a short film with the students of his alma mater.
Bhattacharya's school is famous for producing cine stars and beauty queens. Cine star R Madhavan, director Imtiaz Mi and Miss India Tanushree Dutta are the noted alumni of this school.
The filmmaker suddenly discovered the English teacher of the school Siddharth Sen who acted in his short film Coloured. "I knew Sen as an actor but didn't know that he was also a teacher at my old school. Madhavan was one year junior to me and Imtiaz was very junior to me," he said.
The filmmaker was on the campus to screen his short film Coloured that revo1ve around politics of communalisation of terrorism. The screening was an attempt to make the students aware of the burning global issues. "Films are a very strong medium of showcasing issues through a different lens. This is the reason why I have planned a short film with students of DBMS School," Bhattacharya added.
Alter the screening of the film an interactive session was held in which students interacted with the filmmaker.
During interaction Tathagata informed the students that he would soon hold a film workshop with them to help understand the nuances of the tinsel world.
Rajni Shekhar, Principal of the school said, "Film screening and Interaction with Tathagata is also an attempt to motivate students to build a career in films. Our students have done exceptionally well in Bollywood and beauty contests. They are a strong inspiration for the new generation."
HT Live Jamshedpur, Alok Gupta Jamshedpur. July 25, 2008

Documentary filmmaker Tathagata Bhattacharya with DBMS English
School Principal, Rajani Sekhar before a screening of his film.