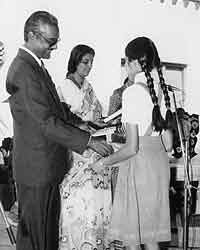 When I was young my whole life revolved round the school where I spent the best days of my life hence my best memories are from the school. Apart from my parents I guess I owe it to my teachers for pushing me to do my best. When I think of them vivid memories of Mr. Reynold C D'Souza come as one of the best English teachers I have encountered in my life. He was our charismatic Principal who was pivotal in providing us a secure foundation in the basics of English language. Not to forget he taught us cursive writing. Till today I cherish the merit certificates which I have received from school. His handwriting shines in all of them. Mrs. Vincent my class teacher of Std. four and five was responsible for making me fearless about maths and science. She also taught us many English songs. Our Principal used to play the piano and we enjoyed the singing classes. Mrs Kapoor taught us biology in such a lucid manner that I fell in love with that subject. Paromita Basu was our wonderful young arts teacher. She was a favourite as she was our style icon too.
Of all the teachers who have taught me Mrs. Surekha Venugopal was the one who influenced me the most by her magnetic personality. I was in awe of her. She laid emphasis on all-round development of all her students. She made us participate in extra curricular activities. Her supervision and vigorous training made us win many awards in elocution and drama contests. She used humour and witty remarks to make even the boring subjects like moral science interesting. She was the moderator of our school magazine and goaded us to be creative enough to compose poems. We even started our class magazine .The first issue was entirely handwritten by me. Nearly the whole school wanted to read it but we lost it midway. Till date, I regret the decision to allow  other pupils to take the magazine home.
Geography as a subject always fascinated me. My geography teachers namely Mrs. Shanta Ashok kumar,Mrs. briganza and Terence Barrows were instrumental in developing my keen interest in the subject as they taught the subject with such fervour and enthusiasm. I admire all of them even more when my sons call me a geography expert.
Who could ever forget Mr. Sunil Sarkar. He was our scouts and guide master. He was the one who started the summer classes which became a big hit. He taught us the Morse code, rope climbing, mass drill, Bengali songs and what not. He gave us the scout den, our first common room which we could decorate in our own way. Under his able guidance we took part in many rallies and jamborees.
Jasbir Ubhi our Hindi teacher was one of the pioneer teacher of the school. She was strict but always helpful. We admired her small beautiful house adjacent to the school. Renu Agrawal was another lovable Hindi teacher .Both of these teachers are the only ones continuing teaching in the school. I have fond memories of other teachers like Mrs. Raman, Mr. N.P. Shastry, Mr. John Abraham, Dorothy DSouza, Mrs.Bhambra, Mrs Shubra Mukherji. Some black and white photos of those times are part of these memories which I cherish. These early memories spur me sometimes when I look back and lament how carefree life was when I was still in skirts and pigtails. Stress drags down spirits but these memories of early school life help me regain my footing, refreshes my soul with confidence and I can start afresh all over again.
Ranjana Mishra is at present posted as Executive Magistrate, Jamshedpur
Jharkhand Administrative Service (37th Batch)