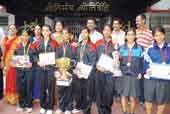 Students of DBMS English School after the felicitation ceremony in Jamshedpur on Thursday.
Jamshedpur, June 24: DBMS English School today honoured those students who were selected by the All India Industrial Tennis Ball Cricket Board (AIITBCB) to represent it in the junior and sub-junior national tennis ball championship.
The girls Shreya Ghosh, Harpreet Kaur, Shreya Pandey, Sneha and Manisha helped the AIITBCB team clinch the title in the 15th sub-junior national championship held at Goa in May. Pratik Sur was the lone member from the school in the outfit which lost to hosts Goa in the quarter-final.
The AIITBCB girl's team defeated Goa by seven wickets to annex the title.
The AIITBCB girl's squad comprising S. Darshana, Shreya Sarkar and R. Preeti secured the third place in the 18th Junior National Championship staged at Faizabad in Uttar Pradesh this month.
The girl's finished third after defeating Bengal.
Kamal Agarwal of DBMS was part of the AIITBCB team which lost to Jharkhand in the pre-quarterfinal.
Lalitha Chadrashekhar, joint chairperson and president of DBMS, principal Rajani Shekhar, secretary Hema Raghavan, treasurer Kamala Subramanian, vice-principal P.K. Sahu, games co-ordinator P. Ramesh Kumar, games teachers Suryajeet Singh, Udayan Nair and Usha Sharma were present at the felicitation ceremony.
---
As published in The Jamshedpur Telegraph of June 25, 2010.