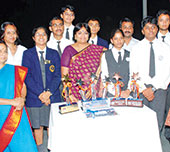 Jamshedpur, Nov. 16: A dinosaur out of e-waste?
Innovative thinking by a school has added a prestigious feather in the steel city's academic cap. Students of DBMS English School have bagged the first runners-up trophy at Quanta International 2010 in Lucknow, among 60 teams of which 20 came from abroad.
Organised by City Montessori School (CMS), Chowk branch, Lucknow, the 16th year of this global inter-school competition was held between November 9 and 12, in which students from across India and Russia, Malaysia, Jordan, Nepal, Czech Republic, Thailand, Singapore, Germany and Finland took part.
The first position was bagged by CMS, Mahanagar branch, Lucknow. "It was a very close contest," said participant Shruti Gupta from DBMS.
"We were really excited to participate at a competition of this stature. It has been a huge experience and Jamshedpur has always done well," echoed Abhishek Shandilya, another participant from DBMS.
Though the school has an illustrious record in the event, topping in 2000, 2002, 2006 and 2008, this was the second consecutive year when it emerged as the first runner's up.
Innovative events that tested the mental and physical acumen of students included Aqua Challenge or a boat race on boats made by respective teams and math, mental ability, science and astronomy quizzes. A debate on stem cell research had DBMS student Ankita Maheshwari bagging the third prize, while the school won the software solutions event. DMBS students also participated in Insight, where each team had to create a sculpture with computer junk, and made a dinosaur.
"Our students tried their best," said DBMS teacher Manisha Bhattacharya.
---
As published in The Jamshedpur Telegraph of Nov 16, 2010.