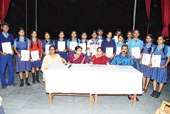 Jamshedpur, Dec. 14: Eighteen students of DBMS Lilliput School have bagged the bronze standards of the International Award for Young people instituted by UK-based Duke of Edinburgh's Award International Association.
DBMS Liliput School is a 'project' school for underprivileged students. The students of Classes IX and X were feted at the annual awards ceremony of International Award for Young People in India, Duke of Edinburgh, held at Gyan Manch in Calcutta on December 9.
The award challenge, a self-development programme open to all in the age group of 14 to 25, has been taken up by six million people so far. The participants design their own programmes, set goals and record progress.
The award was presented to students across the country for their outstanding achievement in four categories — skill, physical recreation, service and expedition.
"I hope my parents understand this achievement," said student K. Manjula Rani.
"This is a proud moment for us as our wards have achieved laurels on an international platform," said principal Lakshmi Varadharajan.
---
As published in The Jamshedpur Telegraph of Dec 15, 2010.