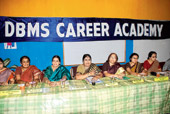 Jamshedpur, March 11: Schools of suicide city are waking up to the needs of weak students in probably their darkest hour — final exam results.
Come March, report cards trigger much stress and tears in many homes. To take away most of it, DBMS Career Academy has once again opened its doors. The board curriculum, which begins from Class VIII, causes many students to fail. It is at this vulnerable point that the academy steps in.
"Since weak students of Class VIII are not promoted, we take them in. I think this initiative may help decrease suicide among students. We have 30-40 admissions," academy principal K. Uma said, adding the school was affiliated to and followed the curriculum of National Institute of Open Schooling (NIOS).
The open school system caters to the needs of students up to pre-degree level and provides weak students opportunities to continue schooling.
Uma said slow learners aged 12 years and above, and who repeated Classes VI or VII, could take admissions directly in Class VIII.
"Since the NIOS curriculum is flexible, it will help the child get academic success and most importantly, regain confidence. The academy has asked all schools in the city and requested them to spread the message among the students who need help," she added.
She also said there was no performance-based cut-off for the admission of students.
"If a child is compelled to repeat a class year after year, she or he can take admission here in Class VIII. The same applies to students who don't do well in board exams. They can also opt for NIOS the same year in October," said the principal.
Marks or credits can be transferred to the NIOS.
"We look at the student's weakest subjects. A student who has appeared for five subjects in CBSE or ICSE boards will opt for the three weakest. The marks of the other 'strong' subjects will be transferred in this case," said academy president Sudha Swamy.
---
As published in The Jamshedpur Telegraph of March 12, 2011.