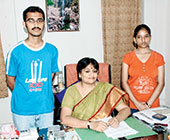 Rajani Shekhar of DBMS to receive award from the President on Teacher's Day this year
Principal Rajani Shekhar along with Shubhodeep Bose and Shruti Gupta in Jamshedpur on Monday. (Bhola Prasad)
Jamshedpur, June 6: Rajani Shekhar couldn't have expected a better gift on Teacher's Day.
The principal of DBMS English School in Jamshedpur has been selected for the National Award to Teachers conferred by the Union ministry of human resource development. Shekhar will receive the coveted award from President Pratibha Patil at Vigyan Bhavan in New Delhi on September 5 this year.
"This would not have been possible without the support of the management committee of our school, especially chairperson Bhanumathi Neelakantan, who gave me the opportunity to implement several innovative methods. This recognition has made me and my school proud," said Shekhar, who will be the second teacher from the city to receive the honour after Vijayam Kartha, the director of Kerala Public School Trust. Kartha bagged the award in 2007.
Shekhar, who was nominated by the Council for the Indian School Certificate Examinations (CISCE), received a letter from the Union HRD ministry last week. The state government is yet to send its recommendation list to the Centre.
The recipients of the award are assessed on a number of criteria like the kind of administrative work they do (for principals), innovative programmes, international tie-ups, rapport with parents and training and development of teachers and staff.
"It is necessary for a principal to have 20 years of teaching experience to be eligible for the award. She also must take classes while discharging the services of a principal. My school has bagged the International School Award from the British Council. Besides, we have tied up with international schools," said Shekhar, who also teaches English in Class XI and XII.
Instituted in 1958, the National Award to Teachers is given away by the President of India on Teacher's Day every year to give public recognition to meritorious teachers working in primary, middle and secondary schools. The recipients are chosen by a state-level selection committee or the Central Award Committee presided over by director (education) or the head of any organisation with a nominee of the Union government as a member. The award carries a medal, certificate, and Rs 25,000 as prize money.
DBMS has another reason to rejoice.
Three of its students — Piyush Mittal, Shruti Gupta and Shubhodeep Bose — who passed ISC examination this year have been selected for Scholarships for Higher Education (SHE), which is a component of Innovation in Science pursuit for Inspired Research. Under this programme, those studying natural sciences and basic sciences in any of the recognised universities of India get Rs 80,000 per annum for five years, that is till their masters degrees.
The CISCE had recommended the names of the three, who are among top one per cent achievers in the country. The school received a letter in this regard on June 4.
---
As published in The Jamshedpur Telegraph of June 7, 2011.