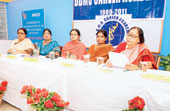 Life may not give us a second chance always, but institutes like DBMS Career Academy certainly does.
For Jamshedpur students who could not succeed in their final examinations but are above 12 years old, DBMS Career Academy has brought bags full of good news. These students can now directly opt for DBMS Career Academy to continue their study and that too without losing an academic year.
The institute which is affiliated to and follows the curriculum of National Institute of Open Schooling (NIOS) has sent a letter to all schools in the steel city making them aware of this system of learning, and requesting them to inform the students in need. NIOS caters to the needs of a heterogeneous group of learners up to Class XII and provides opportunities for continuing education.
All that matters is age. If a student is born before July 31, 1998, he or she can get direct admission in Class VIII. NIOS is recognised on par with other boards.
The cradle thinks that this kind of an opportunity can at least help in preventing the increasing suicide rate in the city. "Since many students for their poor performance in Class VIII are denied promotion, we have opened our doors for them. This would help in decreasing the number of suicides among students," said K. Uma, principal of DBMS Career Academy.
She added that a slow learner who is above 12 years old but has been repeating classes VI or VII could also take admissions directly in Class VIII. Since NIOS curriculum is flexible, it will only help the child in attaining academic success.
Speaking to The Telegraph, president of DBMS Career Academy Sudha Swamy said: "Every student does not possess the same level of intelligence and here we come in. Even if a student fails in Class XI and does not want to waste an academic year, they can approach us," said.
The NIOS at the secondary and senior secondary levels provides flexibility in choice of subjects or courses, pace of learning, and transfer of credits from CBSE and other boards and open schools.
---
As published in The Telegraph, Jharkhand of March 20, 2012.