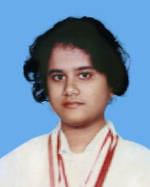 On the special occasion of the Golden Jubilee Celebrations of D.B.M.S English School and the Alumni Meet, it gives me immense pleasure to write for Glimpses: Golden Jubilee issue . D. B.M.S has indeed come a long way in 50 years. Those associated with D.B.M.S, be it the parent organisation or the sister concerns have always worked tirelessly for the cause of education.. By expanding its horizons, D.B.M.S has touched the lives of innumerable number of people. I am overwhelmed to see the great strides it has made after I left in 1993, such as Binapani school, Lilliput School etc.
I feel proud to know that D.B.M.S English School has received the "International School Award ( 2014—2017) under the guiding hand of current principal Mrs Rajani Shekhar who was also my biology teacher when I was in D.B.M.S.
I have warm memories of the school, its sprawling campuses, the Saraswati Mandir, the huge tree at the opposite of the school entrance under the shade of which I used to sit many a time…I fondly remember my teachers, especially the kind Mrs Horo, my history teacher. 
As an active member of the school band and Jyoti Club, I participated in many music competitions and won prizes.. I was also secretary of Spicmacay (Jamshepur chapter). I excelled in academics and won many prizes and awards for the same. I also had a keen interest in elocution and debates and remember the first prize I received as soon as I joined D.B.M.S in the 4 th standard was at a poetry recitation competition. 
I am ever grateful to D.B.M.S for believing in me, and giving me ample opportunities to showcase my talents, especially in the music field . Today I am an established professional singer, music professor as well as a trainer in French language. Painting and theatre are also my passions.
My parents and I came to Jamshedpur in 1987 and we were in Jamshedpur till 1995. My parents were keen and active members of D.B.M.S. My father Mr R. Sankaran of Tata Steel who at one point of time was also the Vice President of D.B.M.S English School contributed successfully with his expertise on various matters…
My mother Mrs Nirmala Sankaran was an active member of the D.B.M.S Mahila Samaj. She was also the President of the Mahila Samaj for a period of time. Alongwith the other Samaj members, she successfully organised and participated in different activities that were undertaken from time to time. My mother was also a teacher at the Women's Career Academy where she used to teach doll, toy making and other types of handwork, painting etc to the women students. 
After my highly successful music performance at the Diamond Jubilee Celebrations of D.B.M.S in 2004, I am honoured to have been invited to perform again in December, 2015 as part of the Alumni program for the Golden Jubilee. 
Suparna Sankaran
(Chennai)