Dakshina Bharatha Mahila Samaj (D.B.M.S.) was established in Jamshedpur by a group of ladies from South India before the Indian Independence in 1944. While its initial purpose was to provide a social outlet to the South Indian ladies in Jamshedpur, with their distinct languages and culture, it soon transformed itself into a into a social service organisation, with education as its primary focus. Its motto is Vasudeva Kutumbakam - the world is a family.
The founding members of the Samaj were:
Mrs. Kaveri Krishnaswamy
Mrs. Kanaka Rajagopalan
Mrs. Nirmala Krishnamurthy
Mrs. Rajam Vishwanathan
Mrs. Kalyani Ramaswamy
Mrs. Lakshmi Kumaran
Mrs. Soundaram Vishwanathan
Mrs. Saraswati Anant
Mrs. Shakuntala Raja
Mrs. Saraswathy Moorthy
Mrs. Sugandha Raman
Dr. Dharmabal
Mrs. Bhanumathi Neelakanthan
Late Shri C. V. Kalyanakrishnan
The Samaj established its first school in 1961. It has since then added many academic institutions; while many of them are well known names in Jamshedpur, there are others for lesser privileged sections of society. The following lists the growth of the organisation over the years:
D.B.M.S. Girls High School in 1961 for girls of the lower income group.
D.B.M.S. English School in 1965 - English Medium  ICSE School for Boys & Girls was started and today around 3000 students are on rolls.
D.B.M.S. Career Academy in 1989 to provide self employment opportunities to women with quality career education.
National Open School in 1992 to help out students unable to cope with the pressure of CBSE and ICSE.
Binapani Vidyalaya: A tribal school at Dhanchatani village 40 miles away from Jamshedpur. Adopted the school in 2002- gives all facilities to students and the staff are paid a good salary.
D.B.M.S. Kadma Girls School: in 2003. Took over a Tata Steel run school in Hindi, Bengali Medium.  To-day around 1500 students are getting quality education in English Medium affiliated to CBSE board.
D.B.M.S. Lilliput School: This School was started for children below poverty line in 2004. Today around 700 students are studying, some of them who work as domestic servants also benefit from this school. This school runs from 2:00 p.m. in the D.B.M.S. English School premises.
Chunnu Munnu Ki Sawari: This  was 

an initiative 

started with a view to provide toys, books and educational CDs to slum children. Students and staff members used to carry the toys and books to underprivileged children by the school bus every Saturday.
Akshardham: This was started in 2006 with a view to give minimum knowledge of reading and writing to women who never went to school, to make them more confident to face the challenges of life.
Karnataka State Open University: Another milestone for D.B.M.S. to give higher education to the youth of Jamshedpur through M.Sc. (IT) and B.Sc.(IT). Started in 2006.
Madurai Kamaraj University: Graduation, post-graduation and M.B.A. courses are offered. Started in 2008.
Bhanumathi Neelakantan Awards & Aid Trust
The Samaj also manages an annual award given to women from disadvantaged backgrounds. This award selects candidates in five categories each year for the award:
Outstanding sports woman
Outstanding student
Physically challenged
Woman entrepreneur
Woman who spreads social awareness
The selected women are given Rs 10,000 each plus several gifts. This award was instituted by Mrs Bhanumathi Neelakantan's brothers in her name in 1995.
The Managing Committee Members
The chairperson of D.B.M.S., Mrs. B. Neelakantan, is assisted by Mr. B. Chandrashekhar as Jt. Chairperson (Finance), Mrs. Lalitha Chandrashekhar as Jt. Chairperson (Administration for all the Schools) and Mrs. Sudha Swamy, as Vice-Chairperson, D.B.M.S. Career Academy, Binapani School and the Baking Cell. The Samaj is headed by Mrs. Jaya Raja as President.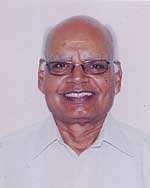 Mr. B. Chandrashekhar
Jt. Chairperson, Board of Trustees, DBMS
Jt. Chairperson, Central Management Committee, (Finance), DBMS
Mr Chandra Shekhar has been closely associated with DBMS for over 30 years.
He is a highly qualified finance professional: from Chartered Institute of Management Acountants, London and MBA from XLRI School of Management, Jamshedpur.
He has over 35 years of professional experience in Tata Steel and Associate companies. He recently retired as Sr GM (Finance) from The Tinplate Co. of India Ltd. Jamshedpur, which is an associate company of Tata Steel. He is now a freelance consultant and visiting faculty at XLRI, TMDC Jamshedpur and Management Training Centre, Tata Motors.
In DBMS English School, his advice and guidance is always sought in matters of finance. His financial prudence has strengthened the infrastructure, as well as the corpus of the school fund. This will enable a self sustained growth.
Mr Chandra Shekhar is also on the governing body of Madrasi Sammelani as Vice Chairman, Board of Trustees; a trustee of Dr T.C. John Memorial Foundation, which runs an Intensive Care and Trauma Centre attached to Tinplate Hospital; Sr Vice Chairman of Chinmaya Vidyalaya, South Park, Jamshedpur.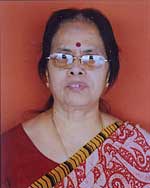 Mrs Lalitha Chandrashekhar
Jt. Chairperson and President, DBMS English School
She holds a degree in Science from Calcutta University and has served DBMS for over 30 years. Presently, apart from being President, DBMS English School, she is also the Jt. Chairperson and  President of DBMS Kadma High  School(the latest addition to DBMS family with over 2500 students), Secretary, Board of Trustees. Vice Chairperson Central Management Committee.  She overlooks the working of major DBMS units (English School, DBMS Girls  Higher Secondary School, DBMS Kadma  High school, DBMS Lilliput school, DBM Samaj etc).
She is well known for her administrative, managerial and inter-personal skills.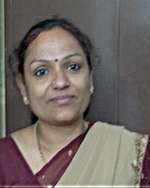 Mrs. Hema Raghavan
Secretary, D. B. M. S. English School
Mrs. Hema Raghavan - Secretary of D. B. M. S. English School. She holds a degree in Master of Arts. She has a keen interest in Creative Art and Craft. She is a dedicated social worker.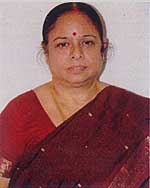 Mrs. Lakshmi Vardharajan
Mrs. Lakshmi Vardharajan is the Treasurer  of the D.B.M.S. English School. She is also the President of the D.B.M.S. Lilliput School and Akshardham. She is the Vice President of D.B.M.S. Samaj. She also has the role of Treasurer in the D.B.M.S. Baking Cell and is a Committee Member of the D.B.M.S. Career Academy. A B.Com. Graduate from Madras University, she has been a teacher at D.A.V. Sonari and has also run a preparatory school for little children. A keen actor and dramatist, she has directed, acted in and scripted Tamil and Hindi plays.